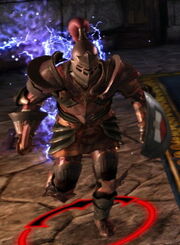 The Warden will encounter six of them in the first room after the Main Hall in Redcliffe Castle. These suits of massive armor are armed with sword and shield and know advanced Champion talents. They only become active when at least one member of Warden's party walks halfway through their room, and cannot be targeted/damaged before that.
See: Dragon Age: Origins
Ad blocker interference detected!
Wikia is a free-to-use site that makes money from advertising. We have a modified experience for viewers using ad blockers

Wikia is not accessible if you've made further modifications. Remove the custom ad blocker rule(s) and the page will load as expected.