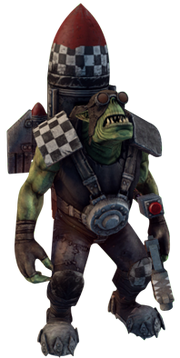 These only appear in the first section of Chapter 9. Whilst more durable than Slugga Boyz, they only wield a Slugga (the very last one you fight has a grenade), which doesn't do all that much damage unless it's sustained fire. Since you're using a Heavy Bolter for most of that section, simply aim and fire, and they should drop dead quickly.
Ad blocker interference detected!
Wikia is a free-to-use site that makes money from advertising. We have a modified experience for viewers using ad blockers

Wikia is not accessible if you've made further modifications. Remove the custom ad blocker rule(s) and the page will load as expected.