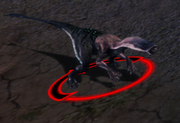 Sand Stalker Spitters are small creatures similar to Deep stalkers which hunt in packs and can surround their targets with small numbers. They tend to live in coastal or sandy areas and burrow just beneath the surface, often ambushing unwary travelers. They can use spits unlike the common ones to debilitate their prey.
See: Dragon Age: Origins
Ad blocker interference detected!
Wikia is a free-to-use site that makes money from advertising. We have a modified experience for viewers using ad blockers

Wikia is not accessible if you've made further modifications. Remove the custom ad blocker rule(s) and the page will load as expected.