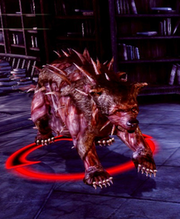 The Fade Rifter is an assembled consciousness given form in the moment of the ritual. Its appearance is intended to frighten the summoning apprentice, ensuring they respect the Fade. While essentially a construct, the beast is nonetheless very real and possessed of a fearsome will to be free.
See: Dragon Age: Origins
Ad blocker interference detected!
Wikia is a free-to-use site that makes money from advertising. We have a modified experience for viewers using ad blockers

Wikia is not accessible if you've made further modifications. Remove the custom ad blocker rule(s) and the page will load as expected.