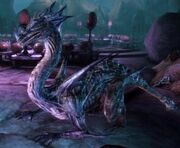 Once they have fully matured, males immediately seek out the lairs of adult females. When they find one, they move into her lair and spend the rest of their lives there, hunting for her and defending her young. They will aggressively defend her nest, and many would-be dragon hunters have been lost to their fiery breath and crushing blows from their tails.
See: Dragon Age: Origins
Ad blocker interference detected!
Wikia is a free-to-use site that makes money from advertising. We have a modified experience for viewers using ad blockers

Wikia is not accessible if you've made further modifications. Remove the custom ad blocker rule(s) and the page will load as expected.