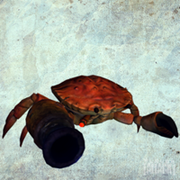 The Cannon Crab is an enemy only seen in Alice: Madness Returns . It is a tough enemy to beat, with a tough exo-skeleton making it immune to damage. However, flipping the cruel crustacean over proves to be an advantage, revealing its vulnerable underbelly. This can be done by either detonating a Clockwork Bomb nearby or allowing the crab to melee a clockwork bomb. Three hits with the Hobby Horse will also cause it to flip over.Besides its sharp claw, the crab is named a cannon crab with good reason. One of its claws is replaced with a cannon that, when lit by its cigar, fires a cannonball that can do a bit of damage to Alice's sanity. The cannon can be destroyed however after it has sustained enough damage. 
Ad blocker interference detected!
Wikia is a free-to-use site that makes money from advertising. We have a modified experience for viewers using ad blockers

Wikia is not accessible if you've made further modifications. Remove the custom ad blocker rule(s) and the page will load as expected.