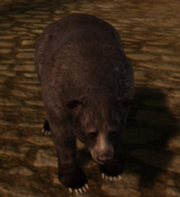 Black bears are the most common type of bears. They can be summoned by a Ranger and Shapeshifters can transform into one. The Ranger's bear levels up with the character and thus makes for a great tanking ally, with high health and damage output. While same applies to the bear form, its use prevents the casting of spells and thus it should only be used as a last resort..
See: Dragon Age: Origins
Ad blocker interference detected!
Wikia is a free-to-use site that makes money from advertising. We have a modified experience for viewers using ad blockers

Wikia is not accessible if you've made further modifications. Remove the custom ad blocker rule(s) and the page will load as expected.